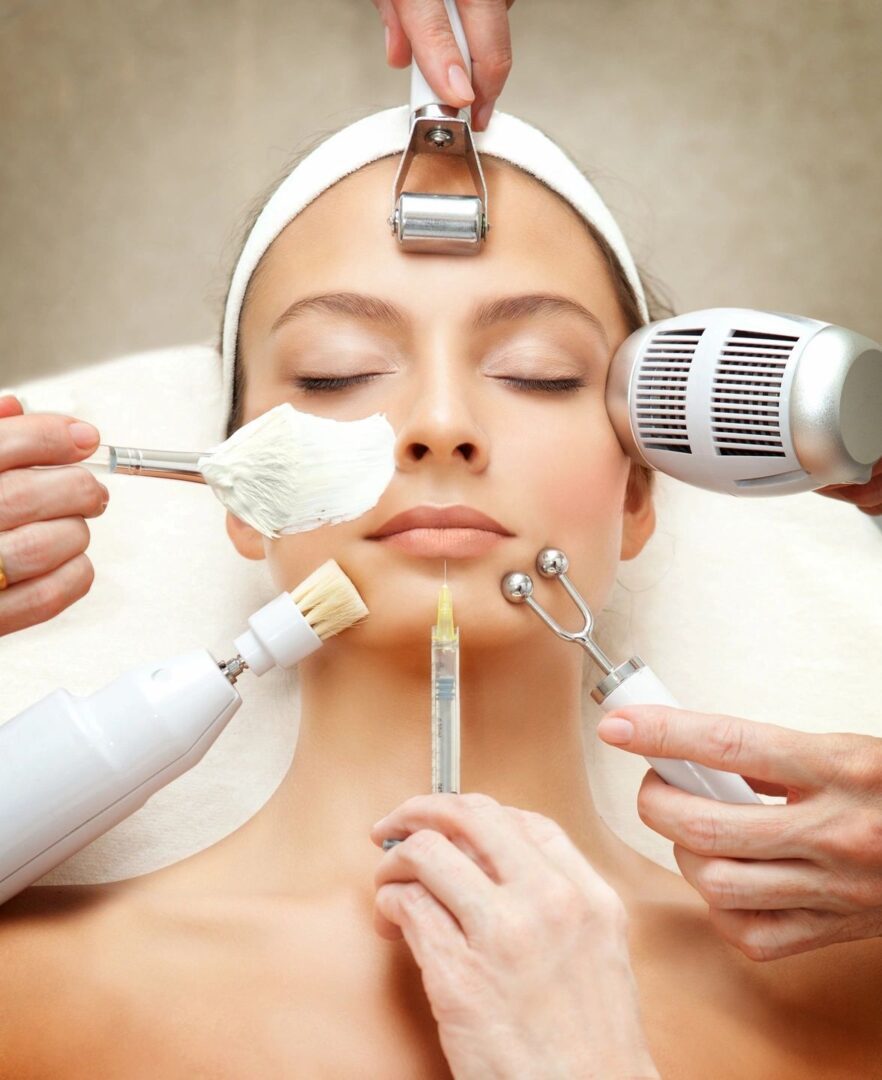 Our Most Popular Services
Relaxation Room
$35
30 minutes
Gravity Chair Massage with body detection & 6 cycles to relax you in our special room designed to help you let your worries float away (free with most packages)
Microderm Abrasion Treatment Most Popular!
$85 45 minutes
$110 with a Peel
One of the most popular anti-aging treatments on the market today. Manual exfoliation of the skin greatly improves the appearance of fine lines and wrinkles, hyperpigmentation (spots or darkened skin), sun damage, scarring, and especially Acne
Head to Toe package
$110
75 minutes
A head-to-toe tantalizing Spa Treatment. Includes: 60 min. Hydrating European Facial & Peppermint Foot Pamper

Super exfoliation to the outer layer of skin using a Diamond Dermabrasion machine to lift the dull cells and promote new cell growth immediately. This treatment is done with a Peel for even better results. No waxing or Retinoid use 3 days prior to treatment.
A chemical peel is a body treatment technique used to improve and smooth the skin's texture, often facial skin, using a chemical solution that causes the dead skin to slough off and eventually peel off. The regenerated skin is usually smoother and less wrinkled than the old skin.
Pumpkin is amazing! Not only can it make a great pie but did you know pumpkin contains vitamins A, C, K, and E? It also has minerals like magnesium, potassium, and iron that help to dissolve dry skin cells. Pumpkins contain Zinc which helps control hormone levels and oil production, common contributors to acne. These vitamins and minerals assist skin healing, reduce pore size, combat inflammation, and even help to fade sun and age spots!
Many people who want to rejuvenate their skin to feel and look younger sometimes opt for a European facial. It involves deep cleansing with an exfoliating scrub, skincare, face masque, and facial massage. Procedures vary due to skin type and needs, so your There She Glows! Day Spa European facial is tailored just for you!
A glycolic facial is a type of skin care treatment in which the acid is applied to the skin of the face (in diluted or compounded form) to penetrate, cleanse, and restore the skin deeply. There are a lot of benefits, such as the skin being cleaner and smoother, and the effects last quite a long time compared to most facials. The treatment is on the harsher side, especially if you have sensitive skin, so it is NOT recommended to take on at home; a licensed skincare professional is the way to go.
While antioxidants are the cure, free radicals are what they combat. Free radicals are charged chemical particles of oxygen that enter into destructive chemical bonds with organic substances such as proteins. What does this mean to you? What happens when you cut an avocado in half? It will brown within a day unless you mix it with lemon juice (a source of the antioxidant vitamin C), and then it does not brown as quickly. Other examples of oxidation are exposure to sunlight, strenuous activity, and stress. Applying antioxidants directly to the skin and massaging slows the process that causes wrinkling, and recent studies link it to the resistance of skin cancer!
Do you want your skin to look lighter, brighter, and more youthful?
The answer is Peels! Glow & Go!
Click Here
Testimonials
I truly adored this day spa. No, really! Sandi, the owner is a delightful and wonderfully joyful woman to be around. You can not help but be swayed to being happier in her presence. When you enter her "spa-zone" it envelopes you in calm, soothing and peaceful energy. Within moments you will feel comfortable, secluded and safe. And after you are snuggled and tucked secure in the yummy, warm sheets and blankets on her heated, massaging, contoured table. You surely will begin to find bliss. Now, Sandi Carr the aesthetician is sublime! She has the most extraordinary smelling products. She is precise and fluid in movement. With a touch that is delicate and soft like fluffy cotton ball clouds, yet healthy, strong and sure. Sandi is understanding so, if you want to gab and chitchat go ahead. Likewise if you just want to have some meditative time to yourself, no worries. Tell her what your needs are and she will do her best to fulfill them. So, if you have never received some "special" treatment or just want to switch it up, go ahead and check out this lovely little day spa.
I called Sandi to have a spa day for me and my bridesmaids the day before our wedding a few months before our wedding. She was very sweet and asked lots of questions about my skin, my now husband's skin and the girls. She was full of information and very willing to work around my schedule. My husband and I went in for a "pre-facial" and a cleansing about a month before the wedding. Our skin looked spectacular afterwards! On the actual spa day, me and my girls came in and they had little desserts and a couple bottles of wine. Everyone had a fabulous experience! Everyone there is very friendly and very knowledgeable. Thank you to all of the girls who helped me out! Will definitely keep going back on my own for facials and waxing (by Nicole)!!
Wow, This is a GREAT Day Spa! I've tried many others in the area and THIS is IT! The Owners name is Sandi Carr, and I am so thankful that I finally found her! I am a very meticulous and selective person and I need a competent establishment to get my "Manscape". My wife recommended "There She Glows" and said I WOULD NOT be disappointed..
Some of my previous experiences with other facials and waxing have been below average at best. I would be in agony during my wax and it went on and on. San is very skilled - she waxes cleanly and efficiently. I always have my waxing done before my haircut. Sandi put me at ease, and gave me a relaxing facial followed by a perfect "Spa Cut"..
I am extremely pleased by all of the services that she can provide.
Today I took some time out for me! Had an amazing 90 mins facial, 20 minutes in the Gravity Massage Chair... Boy I did not want to leave. 
Sandi always makes me feel amazing... If you're looking for a way to treat yourself then check her services out!
This is my second review and my first in the "new" location. I drove around for a while looking for it (it's nestled in a tiny office building off Fletcher) and it was worth searching for. Sandi is very skilled and makes you feel welcome. The place is down-to-earch and comfortable, though small. I had a facial and a foot treatment that were both through and indescribable. Prices are half what you'd pay at higher-end spas, and I prefer the low-key atmosphere here. I honestly can't believe it's been 3years since my first and last visit, but I will not wait this long again!
Wow!! I called and was having a facial/eyebrow wax less than an hour after I hung up. Sandi is extremely knowledgeable and pointed out things that none of my previous facial spas ever mentioned. I will DEFINITELY be coming back. Best acne facial ever. 🙂
Just got my "End of Summer" microdermabrasion facial that includes a neck & shoulder massage and a foot massage. Sooooo wonderful!
Thank you Sandi Carr.