Peels
Treatment to Promote
Skin Health, Youth & Beauty
Peels
Are you ready for a change in your skin?
Lighter & Brighter with smoother texture? More youthful and firmer? 
But haven't the time or money for lengthy facial appointments at your spa?
Try my Corrective Skincare Peels- to promote health, youth, and beauty!
Skin peel services can be performed in fewer than 30 mins in the spa for a Glow & go! You get immediate results, and when done in a series of 1-2 week intervals, these Peels have glowing & anti-aging effects, I can guarantee.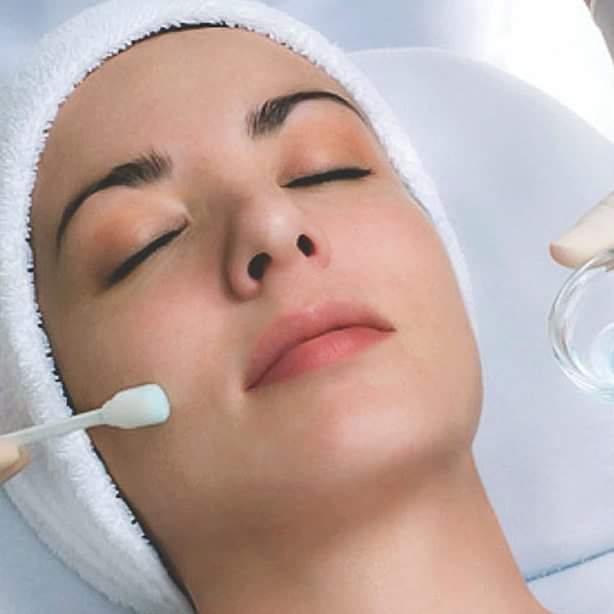 In Order of Least to Most Intense
Enzyme/ honey exfoliator: Good for sensitive skin
Lactic / Glycolic: great for acne and wrinkles
Salicylic: Is great for drying up cystic or persistent acne
Pumpkin: Combo of enzyme and acid. good for sun-damaged skin and evening skin tone
Mid Depth Peels-Level 2: $75
Microderm Abrasion for $50 for more intense results
TCA Herbal Peel -Super Peel & Color Correction Skin Lightening Peel – Cell turnover begins within 2-3 days, and you experience light shedding for several days, revealing beautiful new skin. Reduces fine lines and wrinkles and lightening and brightening (allow 30 mins.) A post-peel polish is recommended. After 7 days, polish off your skin and see the treatment's glowing results. Includes Take-Home Products
Medium to Deep Peels- Level 3: $150
Mini Jessner Peel 1-2 layers-and TCA Herbal Peel with Microdermabrasion- Includes take-home products. Cell turnover begins 2-3 days, but skin sheds longer and at a deeper level for better results. Lightens & Brightens smoothes the texture and reduces fine lines, wrinkles, acne, and scarring. A-LEVEL 2 POST PEEL POLISH after 7 days is necessary to finish this treatment.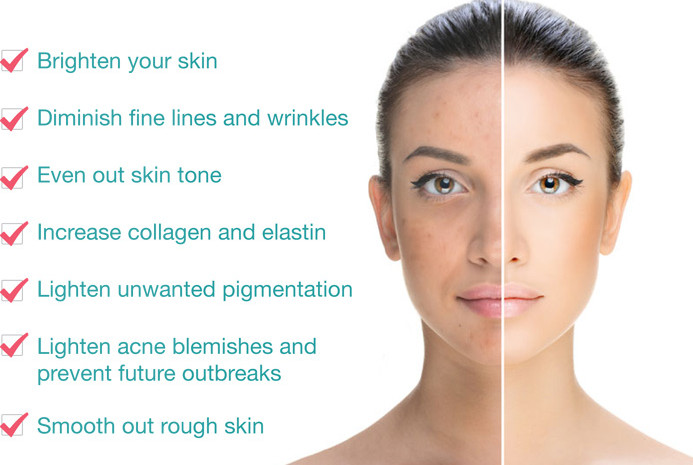 Jessner Peel 3-7 layers – Benefits- Completely turns over the top layer of the epidermis starting 2-3 days and lasting 7-10 days in total regeneration time, leaving a fresh new layer of skin, much tighter, smoother, even textured and younger-looking! By boosting new Collagen production, making your skin regenerate all new cells, what it used to do when we were young!
Your skin will be Lighter and Brighter as hyperpigmentation is all but gone; the texture will be smoother and more evenly colored and soft and beautiful! The downtime with this peel is that you will be shedding daily for approximately a week and need to avoid prolonged sun exposure and wear sunscreen. Includes all home care products & detailed instruction as well as your level 2 post-peel polish (included in the price, so it is sure to be finished correctly)
Microdermabrasion: More gentle with less downtime than chemical peels; can also be used with peels for more intensity. It can be added to any peel for $50
Microdermabrasion Alone: $80
Depending on your desired results and downtime, Jessner and TCA Peels can be done in a heavy-mid depth or light /mini version of the same peel.
I can also use Microdermabrasion with these peel services to intensify the anti-aging results! For an additional $50
Check out: Peels – TCA Peel, Post Peel Polish, Jessner Post Peel Polish, Jessner Peel, Jessner Mini Peel, Discoloration Correction Skin Brightening Peel on my scheduling site for more info, benefits, and pricing as well as series prices. Easy online scheduling anytime or email ~ [email protected]
Call or text +1 (619) 698-7377
Enjoy more Youthful and Glowing Skin "GLOW & G0!"
Testimonials
I have been going to Nicole for waxing for years! She is gentle, efficient, and great aesthetician. Nicole is accomodating to all of her clients' needs and is the utmost professional. Clients I have referred to Nicole consistently go back and rave about how incredible she is! A friend I recently recommended wonder why she did not meet Nicole sooner. This is how great she is! Her prices are reasonable and worth every penny because Nicole provides outstanding service!
Nicole is an absolute wonder! She's incredibly professional, has a really nice little space, and is fast yet oh-so precise. She knew exactly what I needed, never made me feel uncomfortable, and all-around made the experience really fantastic. And perhaps best of all, she's actually affordable. I will definitely be returning on a regular basis!
First hand recommendations go a long way. (Now close your eyes and pretend you know me). Ok open your eyes so you can read the rest of this review.
Nicole is the best Aesthetician ever ever ever! She gives the best Brazilian wax on the planet (yes I said planet). Search no more and book with Nicole. She is done front to back in 15 minutes FLAT. I am not exaggerating. She's got Ninja waxing skills.
Kidding aside. I am in the spa industry and have had countless so so waxes, not to mention a few sessions that I didn't even want to finish. Horror stores. I know a good wax when I experience one. For this reason Nicole has been my gal for the last 4ish years.